Audubon EagleWatch on Marco Island contacted Signature Tree Care on 9/16/20 and requested our help to remove plastic casting net in one of the eagle's nests. Rosemary Tolliver, volunteer for the Audobon EagleWatch, was directed to Joanna Fitzgerald at the von Arx Wildlife Hospital of the Conservancy of Southwest Florida who in turn provided the name of Ian Orlikoff, owner & lead ISA Certified Arborist of Signature Tree Care in Naples, Florida.
She contacted us for when studying the eagle nest, she noticed a cast netting entangled within the nest site. After consulting with the Audobon Society, permissions were required from federal and state authorities to remove the netting.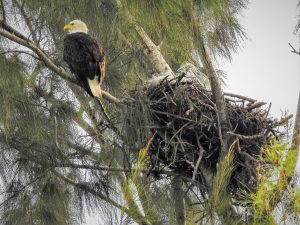 On September 18,2020 the Signature Tree Care team consisting of Ivan, Shelton, Ryan & Ian Orlikoff, lead ISA Certified Arborist arrived on site. Utilizing the Ronin Lift ascender, Ian accessed the nest safely to remove the netting.  As evening drew, both eagles were back in the nest. Remember to enjoy yourselves on the water when out fishing but properly dispose of your netting and fishing lines. See & Read More:
Below are: Article in Coastal Breeze News; Youtube video & pictures below by Frank Steiger Photography.